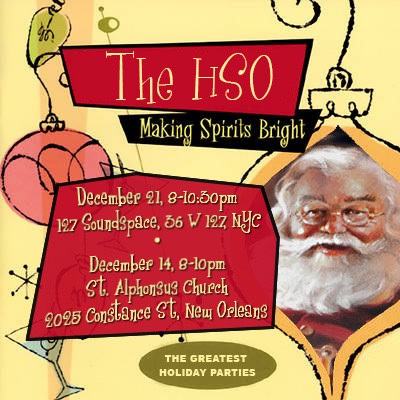 HEY FOLKS!
We're doing a couple of holiday shows - one in Nola, and one in NYC. Please come down - a good time is guaranteed! The NYC show will feature the unflappable Jim Mola and the redoutable Amanda Homi - doing some fun and cheeky holiday tunes as well as some other great tunes. Come on down and celebrate with us!
Babbalucci will once again be providing adult refreshments, and they will be running a pre-show happy hour menu at the restaurant, which is just up the block.
The HSO, or High Standards Orchestra, an all-star 10-12 piece band under the direction of Graham Hawthorne - a veteran of the Paul Simon and David Byrne bands. From 2009 - 2013 the HSO played a series of exclusive speakeasies around New York City - mainly in a Harlem Townhouse. The events grew popular to the point of being written up in The New York Times and The New Yorker. 
The HSO plays the music of The Great American Songbook, reimagined. These are popular songs of the last 100+ years, including hits of today as well as songs from every decade prior. They play all of these classic songs in startlingly refreshing and fun ways. The HSO is by no means an oldies band; it is a fresh, vital aggregation of some of the best musicians and singers in New York City and New Orleans.
New York Show: December 21st, 2016 doors 7:30PM, show 8pm -10:30pm,
One Two Seven Soundspace, 36 west 127 st, NYC
Tickets: thehso.com/store
rsvp to hso.nola.nyc@gmail.com
New Orleans Show: December 14th, 2016, 8pm-10pm,
St Alphonsus Church, 2025 Constance St, Nola
Tickets available at venue