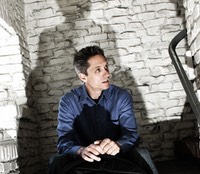 THE HSO....,
came together almost by accident…
In 2009, Graham Hawthorne, (Drums, Leader, Arranger), finished a year long world tour with Art-pop legend David Byrne. Finding himself home and without any immediate musical projects, he decided to put together a small Big-Band just for fun. His roots were in Big Band and Jazz, and in the early days of his career he had worked with Jazz legends such as Ira Sullivan, Jon Hendricks, Randy Brecker, Hubert Laws. But that was long ago, and his career took a different path as he became one of the most in demand musicians in New York with credits as diverse as Paul Simon, Beyonce, Harry Belafonte, Suzanne Vega.
It had long been his feeling that much of modern Jazz music had lost touch with the real essence of early Jazz, which was above all POPULAR MUSIC – Entertainment; music for feeling good, dancing, toe-tapping, singing along and romancing.
So, he called up a bunch of like-minded friends and The HSO was born.
They began by playing concerts once every few weeks in Hawthorne's Harlem NYC Townhouse - dancing, partying and booze in a NYC apartment. The attendance quickly grew to more than 100 people, with just as many turned away. That may not sound like a lot but with a 13 piece band in a 700 square foot furnished apartment - you can imagine the heat that was generated!
Because you had to be on the exclusive mailing list to get an invite to the show, people around NYC (including the New York Times) began to refer to it as The Harlem Speakeasy Orchestra, or HSO. A few years later that gave way to The High Standards Orchestra, keeping the HSO acronym.
After a few years of growing attention for the band, Hawthorne realized that it had become more than a fun side project, and two significant changes were made. The first was to find bigger venues in which to play. The second was to update the repertoire to include ALL eras of American popular song, and to treat the material in fresh and often surprising ways - without losing the fun vibe of the band and the shows.
In 2015, The HSO began to do some shows in New Orleans. Finding it a welcoming place for their music, they now appear every Saturday at the renowned Carousel Bar, and once a month at the local's favorite music bar Chickie Wah Wah's. 
They also continue to play at least twice a month in NYC.
Stay tuned for announcements about shows around the country!